Proton security friendly 17'' laptop briefcase
---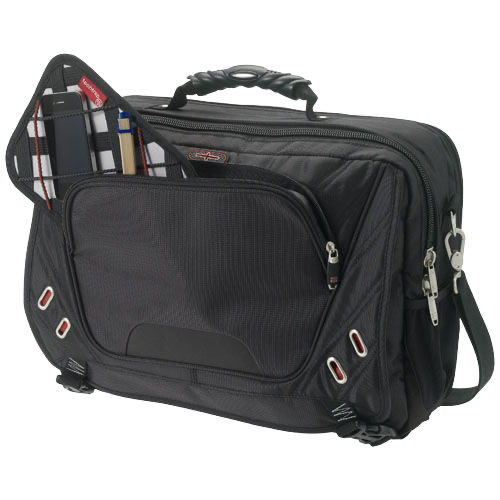 Description

Proton security friendly 17'' laptop briefcase. This exclusive design has a designated laptop?only section that unfolds to lay flat on an x?ray belt to increase speed, convenience and security. Back zippered compartment holds up to 17'' laptops and has separate zippered pocket for files or cords. Main zippered compartment with file dividers. Front zippered pocket holds the removable TechTrap elastic organiser panel and includes a media pocket with access to an ear bud port. Deluxe organisation file folder and zippered pocket under flap. Back panel designed to slip over trolley handles. Dobby nylon, Scuba.

SKU: 11954300

Price Guide

(Excluding VAT)

Quantity Price Breaks
2
5
25
50
100

Printed 1 Colours Decoration

101.89

80.22

70.15

66.94

63.78

Printed 2 Colours Decoration

121.81

88.46

72.21

68.11

64.42

Printed 3 Colours Decoration

141.72

96.70

74.28

69.26

65.07

Printed 4 Colours Decoration

161.64

104.94

76.34

70.42

65.70

Please note: These are guide prices and are subject to change without prior notice. All orders placed are subject to artwork review.